Imagine it's a Friday night.
You had a long week and you're ready to unwind. So you and a couple friends decide to hit up the bars. Boys' night out.
As you're heading out the door, one of your friends turns to you and says, "That's it. I'm tired of being single. I'm going to fall passionately in love with a girl tonight and I'm going to marry her and it's going to be perfect."
Obviously, nobody ever actually says this, but just imagine if they did. How would you react?
You'd probably laugh and either ask your friend if he's joking or if he's lost his mind. Everybody knows that you can't force something like finding your future wife (or husband). You might meet them, but you can't (well, you shouldn't) fall in love and get married all in one night. That's just not how it works. It takes time.
And if you were to go out to a bar with the intention of finding your future spouse, it probably wouldn't go too well. Chances are that every single conversation you have is going to go very poorly.
Because you'd be trying way too hard.
Stop Trying So Hard
The scenario above might be unrealistic, but it describes the same reason why so many guys freeze up when talking to a girl that they're attracted to—because they're trying so hard to make a good impression that they end up making a bad impression.
It's obvious when you're trying too hard, and it's a huge turn off. Nobody likes a try-hard.
On the other hand, if you go into conversations without any intentions or expectations, then your conversations will flow a lot better and you might actually end up meeting your future spouse. But it'll never happen if you go into every conversation with that expectation from the beginning.
It's one of life's many paradoxes and it carries with it an important lesson that applies to any situation in life:
The way you approach things will define your experience.
When you set things up the right way, good things happen. But when you rush into things, or when you go into a situation expecting a particular result, that's when things don't work out the way you want them to.
And this is exactly why so many millennials are perpetually conflicted when trying to figure out what to do with their lives.
The #1 mistake millennials make when trying to "find" their passion is that they're trying to force something that can't be forced.
Their approach is just as futile as the man hoping to fall passionately in love and get married to the perfect woman the first night he meets her. At a bar.
It's just a bad approach.
But I don't blame my generation for their naiveté. We've grown up in a society that's romanticized the shit out of following your passion. We've been told that the only way to be happy and successful is to "find our passion." That if you just follow your passion and do what you love, the money will follow.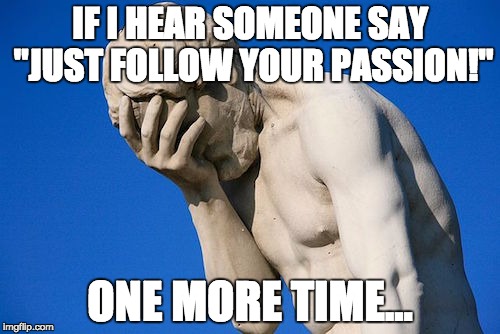 So it's no surprise that millennials are constantly saying things like…
"I feel like I have a few interests that I enjoy, but I don't feel completely passionate about any one of them. None of them just consume me."
"I want to start learning new things but I'm scared of putting in the hard work and then realizing I worked hard for the wrong thing."
"I want to do so many things… How do I figure out what to do? How do I know what I really want?"
But the second you even get the idea in your mind that you need to "find" your passion, you're already trying too hard, and you're setting yourself up for a lot of unnecessary pain and frustration.
Because you're trying to force something that can't be forced.
If you approach every single new project you begin with the single goal of determining whether or not it's your "one true passion," I promise you will never find your passion.
If you wake up every single day, asking yourself, "is this really my one true passion?" The answer will always be no.
No one just woke up one day and suddenly knew, "THIS is the one thing I want to do for the rest of my life!"
That's just not how it works (at least not for 99% of the population).
If you've been making this mistake, you need to change your approach.
You Need To RELAX
First of all, know that you are not alone in feeling like you have no idea what to do with your life.
This is completely normal.
It might look like every one else knows what they're doing, but the truth is, no one really knows what they're doing. The only difference is that some people have learned to keep moving forward despite having no idea where they might end up.
The problem is that you're so damn scared about making the wrong decision about what you want to do for the rest of your life, that you can't even take a step in the first place.
But it doesn't need to be this big scary decision. Stop trying to make giant leaps. All you need to do is take one tiny step at a time.
It doesn't matter how small those steps are. Make them as small as they need to be in order to get you moving.
Once you get moving, you'll build momentum. And momentum is a very powerful force of nature.
For now, forget about passion and just start following your curiosities.
What sorts of things do you find yourself naturally drawn to? What makes you excited? What makes you "forget to eat and poop"?
Move towards that.
Start a blog. Start a Youtube channel. Start a Soundcloud. Do something.
And don't expect to feel some sort of deep, burning passion right from the get-go. That comes later.
Just take a deep breath and relax.
Aside from the fact that life is simply more enjoyable when you're relaxed, you're also a better decision maker when you're relaxed.
Just look at any great leader (presidents, CEOs, etc.) and a common trait you'll notice among all of them is that they're able to manage their emotions and remain calm even under high-pressure situations.
While everyone else gets frazzled and caught up in their emotions, leaders stay calm. They keep their composure. And they do so out of necessity.
Studies show that "90% of top performers are skilled at managing their emotions in times of stress in order to remain calm and in control."
By remaining calm in these times of stress, leaders are able to clearly analyze the situation and take the best course of action. Quick, calm decision-making is one the key characteristics of great leadership.
While you may not be leading a powerful country or a Fortune 500 company, the first step to leading others requires leading yourself.
You are the leader of yourself.
So do yourself a favor and stop trying so hard. Stop putting so much pressure on yourself to figure everything out right now. Just follow your curiosities and see where that takes you.
Be a good leader.
Image credit: header image, facepalm statue